Experience the Ultimate Spider-Man Adventure with a FREE $5 Movie Ticket to Spider-Man™: Across the Spider-Verse, Thanks to Atom Tickets & T-Mobile!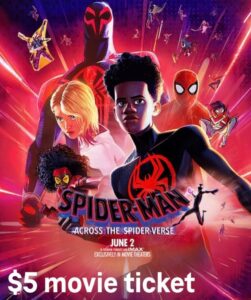 If you're a T-Mobile customer, you have a fantastic opportunity! You can effortlessly redeem a FREE $5 movie ticket for Spider-Man™: Across the Spider-Verse on Atom Tickets using your T-Mobile Tuesdays app before June 4th, 2023. You'll also need to have an Atom Tickets account set up when you redeem your code.
While there may be some taxes and fees associated with your purchase, the $5 movie ticket from Atom Tickets is still an incredible deal that you won't want to miss!