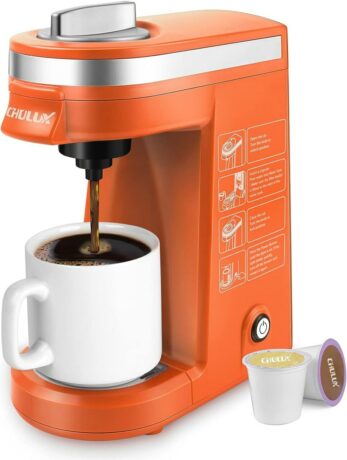 Attention coffee enthusiasts! If you're on the lookout for an incredible deal on a single-serve coffee machine, look no further. The Chulux Coffee Maker is currently available at an unbeatable price of only $32.67, down from its original price of $55.99. Not only does this coffee maker boast an affordable price tag, but it also offers a range of features that will enhance your coffee brewing experience. Let's dive into the details!
One of the standout features of the Chulux Coffee Maker is its user-friendly design. Brewing a delicious cup of coffee has never been easier. Simply insert your favorite coffee pod, press a button, and watch as your coffee is brewed in a matter of minutes. With its intuitive operation, even those new to coffee brewing will find it a breeze to use. Furthermore, the easy-to-clean components ensure that maintaining the machine's hygiene is hassle-free.
If you're someone who enjoys a larger cup of coffee to kickstart your day, the Chulux Coffee Maker has got you covered. With a generous 12-ounce capacity, you can brew a substantial amount of coffee to satisfy your caffeine cravings. Whether you prefer a strong espresso shot or a milder brew, this coffee maker allows you to customize your cup size effortlessly.
Add a pop of color to your kitchen countertop with the Chulux Coffee Maker's eye-catching orange hue. This bold and vibrant color will not only brighten up your space but also bring a touch of personality to your coffee brewing routine. It's a sleek and stylish addition to any kitchen decor.
With its compact dimensions of 4.3″D x 7.4″W x 9.06″H, the Chulux Coffee Maker is designed to fit seamlessly into any kitchen, no matter how limited the counter space may be. Its small footprint makes it an ideal choice for those living in apartments, dorm rooms, or offices. Don't let its size fool you; this coffee maker packs a punch when it comes to performance.
If you're in the market for a single-serve coffee machine that offers convenience, versatility, and affordability, the Chulux Coffee Maker is an excellent choice. With its easy-to-use functionality, 12-ounce capacity, vibrant orange color, and compact design, it has everything you need to brew a perfect cup of coffee every time. Don't miss out on this incredible deal, available now for only $32.67 (originally $55.99). Upgrade your coffee game and experience a delightful brewing journey with the Chulux Coffee Maker.