Arr mateys, listen up!🦜
This year, on September 19th, we celebrate the one and only National Talk Like a Pirate Day, and our friends at Long John Silver's have a treasure trove of goodies in store for all you pirate enthusiasts out there! Get ready to feast like a true buccaneer!🎉🐟🍗
If ye dare to talk like a pirate, Long John Silver's will reward you with a FREE piece of their mouthwatering fish or chicken. That's right, just channel your inner Jack Sparrow and let those pirate phrases roll off your tongue! Savvy?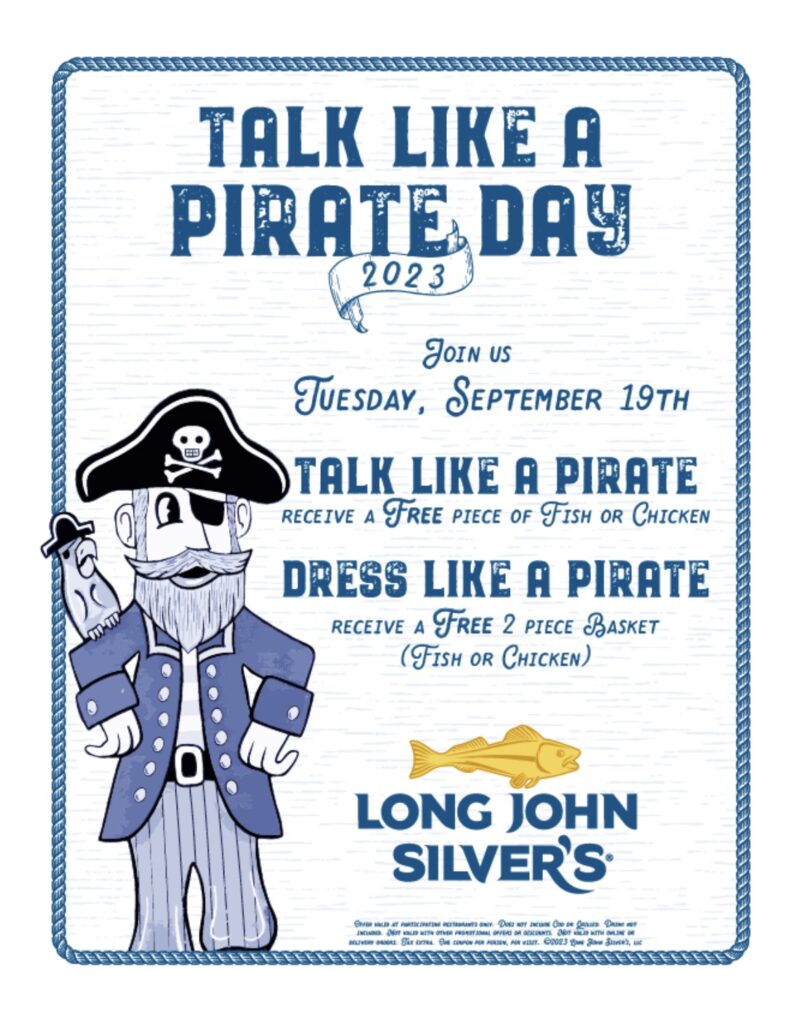 But wait, there's more! If you're feeling extra adventurous and dress up like a pirate while talking like one, brace yourselves for an even grander feast! Long John Silver's is granting you a FREE two-piece fish or chicken basket! Aye, you heard that right, matey! Dressing up and talking like a true swashbuckler will unlock the ultimate pirate's booty of crispy, golden goodness. Shiver me timbers, it can't get any better than that!
So polish your pirate lingo, and set sail for Long John Silver's on September 19th!
Remember, this offer is only available on National Talk Like a Pirate Day, so mark your calendars and raid your closets for pirate attire. Yo-ho-ho and a bucket of yum, on September 19th! Fair winds me mateys! 🍽️🌊