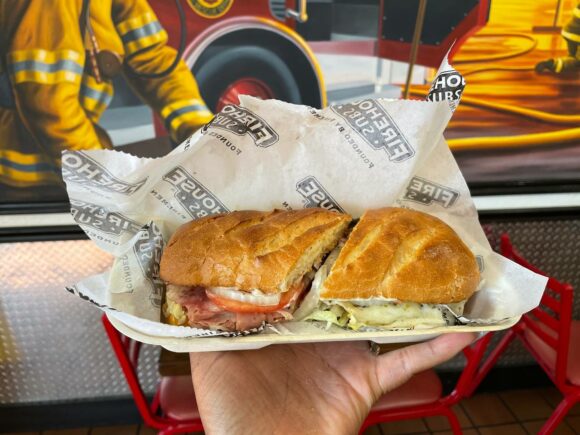 Hey there, fam! Are you ready to fire up your taste buds this Labor Day? We've got some blazing news that will surely get your mouth watering. Get ready to indulge in a mouthwatering experience with our sensational Labor Day offer!
This Labor Day, Firehouse is bringing the heat with an irresistible deal: when you purchase a medium or large sub, chips, and drink, Firehouse is treating you to a FREE medium sub!
Picture this: sinking your teeth into a perfectly crafted sub, packed with the finest ingredients, and experiencing a symphony of flavors that will leave you craving more. From succulent meats to fresh veggies, our subs are a true culinary masterpiece. And now, with this exclusive Labor Day offer, you can double the deliciousness without burning a hole in your pocket.
Get ready to satisfy your hunger, whether you prefer classics like turkey or ham or crave something bolder like our signature BBQ chicken, Firehouse has got you covered.
Remember, this offer is only valid for Labor Day, so don't sleep on it! Swing by our nearest location, & bring your friends and family & present this coupon to redeem to get your  free medium sub.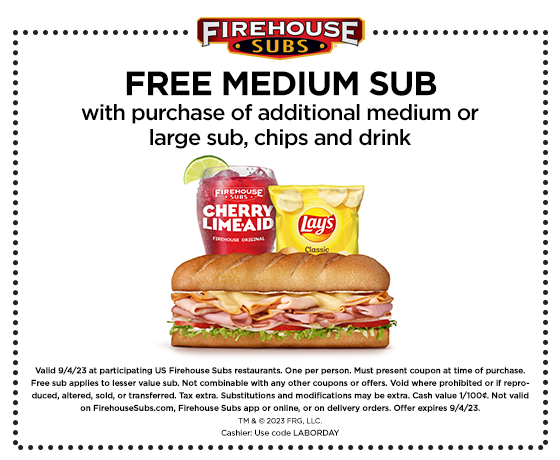 *please see coupon terms and conditions